May 3, 2018
(Bstyle)-With the innovation of educational paradigm "University in Corporation",this morning August 19th, in the HIU auditorium theatre, the  " Opportunities for young start-up" event and, "Opportunities for college students to start-up " event, hosted by HIU university collaborated with Top 100 Business Style, have been gaining the mutual cooperation from over 30 corporations,  has been offering over 30,000 job opportunities for HIU university students network.
This isn't a small number, especially the collaborations from huge corporation including: Masan Group, Suntory Pepsico Group, Sacombank, Migroup, Cotec Healthcare Holdings, Eastin Grand Hotel Saigon, Amiana Resort, Hoàng Gia Pearl, Nam Hương Corp.,Amerasian Shipping Logistic Corp., World Star Group, and 5-star International Group, Trần Toàn Phát, PPC, Trường Thắng Company,…
This event has capture vast interest from businessmen and young participants
As a participant, Proffessor Ha Ton Vinh – CEO, General Director of The Association of Education, Training and International Consultant Stellar Management, have presented a spoke to give congratulation to the Nguyen Hoang Group in their investment and development in bulding a highly proffessional which is also meet the International standard – HIU
Proffessor Ha Ton Vinh provided a spoke in the event
According to Proffessor Ha Ton Vinh, "Education is like a 4 legs table (including school, students, corporation and government)". As citizen, we have to build up a strong 4 legs table in other words, a strong educational foundation will help to accomplish a constant . development of a nation ultimately. From my experience, I have seen that strong and mightful table/foundation at HIU university today, and I hope this collaboration will altogether create a highlly successful and promissing future young generation.
The University's new development plan
With the goal to educate and nurture students with high creativity and outstanding cognitive ability, the skills to apply knowledges in to the reality flexibly, integrating with a beautiful soul and highly respected ethic in doing business in line with the everchanging economic development, Dr. Thái Bá Cần – Principal of HIU university revealed that this school year 2017, the university will provide highly advanced and practical programs: "Besides the equipments and innovated 5 star facilities, we have been focusing in conducting depth research and development in new teaching programs, for those highly practical courses, we will invite corporations to join and deliver talk and make direct lecturing sessions.  With those classical and theorical courses will be adjust to make them more suitable to the social demands. Otherwise, the program will be updated the latest science learning reflecting the social community, the progress internal and external of the credit , and have the transfer of the friends. Special for University in Learning the Microsoft Office for the user, the users can be able to use the free tools and the data in Microsoft from the utility software, the libraries number… ".
Dr Thai Ba Can share the program of the international training and the new training method "University in Corporation" will be applied in the new year of University of HIU.

You should also know, HIU University will make the programs oriented to the teaching method of focusing on the learning point and the performance, promoting dynamic performance for the maximum creation for learners for the ease of learning "For the students it can be easy in learning in an international environment, the program quality should be upgraded into English, we make sure to the best education will be attained by HIU, the students will gain IELTS from 5.5 to above, with a full completion in 4 skills Listening / Speaking /Reading / Writing, integrated with external activities. Also, home field has been created the connection and facilitating persistence with many large business. Associated business will be joining online to over a program builder and campaign in selecting the best students to be their future employees.

On the new novel and the current status, we ensure that the students receive the best educational program at HIU will be qualify a job right after graduated, they are going to become key roles of the business.
Equivalation, responsibility and mind of teachers, with the motivation from businessman and corporation, parents and students,  "HIU is the boat of hope' the ship of knowledge will spread out the passion about the educational environment, about a bright future of Vietnam, of the whole integration entry.

Business Companion Campaign
For over 100 enterprises from  the large and small business have been invited to participate in the program of the manual and they are willing to offer 30.000 jobs for the students community of HIU  19/8, they are as the target – that have the right experience and knowledge that are suitable for their business expectation.
Please send the "Start-up from college".

From the requested section "Start-up from college", Mrs Đinh Kim Nhung – Director of Masan Group, the issue of looking  forward to the staffs who are more capable with the business has been a difficult problems "Whenever our corporation has many profile to be specified,the number turned out was very little, that is also tranged at Masan and also other comapnies. In this case, corporation should look forward as many as they can. "Mrs Đinh Kim Nhung – Human Resource Manager at Masan Group.
That is very fun when University of HIU was given the training model 'home fields in business' and are available to be used within the university, and vast profit can be generated, help the community of the resource. Ensure HIU can offer over 1.000 job opportunities for  HIU students. Also Mrs Nhung has shared "Masan hope to collaborate with HIU in offering opportunities from good students to be invited after graduated.
Mrs Lê Thị Ngọc Hải – CEO of Lê Bảo Minh Group

As a business entrepreneur with over 20 years of experience, Le Thi Ngoc Hai highly appreciates the strength of Nguyen Hoang Group when devoted to the career and training, especially building HIU "knowledge ship". To meet the demand of human resources in recent times: "I understand Nguyen Hoang Group, they are investors, founders,who have great responsibility with the family, with the body and social. Their job is the first in education bringing the same suited for children. Im pretty sure that on the first enter educational field , Nguyen Hoang and the University of HIU will make strong progress, will spread over the student. Back to the following event at Le Bao Minh, if before they are only to the partition into distribution  array, today they are expand to all categories like semi, logistic, smart information, … Kernel is growing to many, but you know the current field is not available in this school of Vietnam. That's our problem now."
Mr. Wayne Woods – General Manager, Eastin Grand Hotel Saigon

As a businessman from Australia, a senior expert having many years experience in the field of restaurants, hotels Mr. Wayne Woods – CEO of Eastin Grand Hotel Saigon was appreciated the learning and working capacity of the young people of Vietnam, however he thinks that the young people are lacking of leadership and creative thinking and initiative at the work. "I think you need to be oriented from the school even earlier, need to be more dynamic, confident, students should take part in extracurricular activities at school because through this, you can explore your potential, what you want to do and who you will be in the future. " He also expressed his surprise at the first time to witness the modernuniversity environment like HIU and hopes that HIU students will make every effort to achieve success in the future. Eastin Grand Hotel Saigon is also committed to working with HIU University to create 1,000 jobs in the next five years for young people.
Dr. Dinh Minh – Chairman of the Board, Migroup

Dr. Dinh Minh – Chairman of Migroup Management Board, the company has 5 systems of restaurants World Seafood also promised to accompany HIU University to create 1,000 job opportunities for students to meet bridge development in the next 5 years. For 20 years as the CEO of big corporations in Europe, Mr. Dinh Minh said he started his career as a student abroad, but when returning to Vietnam to build Migroup, it encountered many difficulties, especially when accessing to human resources for food and tourism, however he persevered with his passion and initially achieved success. His story inspires young people, once identified the son of Dr. Dinh Quang Nuong – Deputy General Director, Nguyen Hoang Group
Dr. Dinh Quang Nuong – Deputy General Director, Nguyen Hoang Group
As a prominent global citizen, Mr. Dinh Quang Nuong – Deputy Director General of the Nguyen Hoang Group said that in order to train the generation of HIU students, who have a global mind but at the same time understand the local people, "It is important to improve the foreign language skills of the children." In the current integration stage, we see that foreign languages ​​are extremely important. It is important for them to be confident in integrating into the international work environment and can contribute as much as possible to the development of the business. We discussed and agreed with the administration of HIU to push English as one of the main languages ​​of the school. It's not just about communication that we want the language to be used by our children as our primary language".
Ms. Nguyen Thi Ai Van – Chairman of the Board, World Star Group

Ms. Nguyen Thi Ai Van, Chairman of World Star Group, said that due to the characteristics of the industry, it is difficult to recruit staff as desired. In general, the current situation, World Star Group is yearning for high-quality human resources. "When recruiting staff we emphasize soft skills factor and working attitude. World Star Group is preparing to open a new office in Can Tho and Southeast Asian countries. Therefore, we are committed to work with HIU to create more jobs for students, must be quality human resources to cater the needs of enterprises.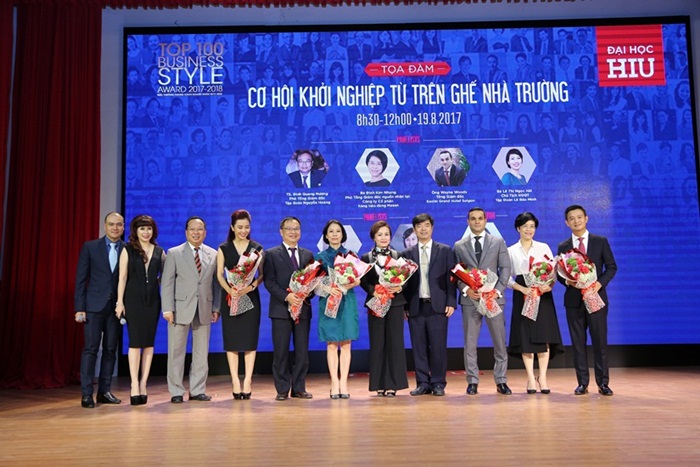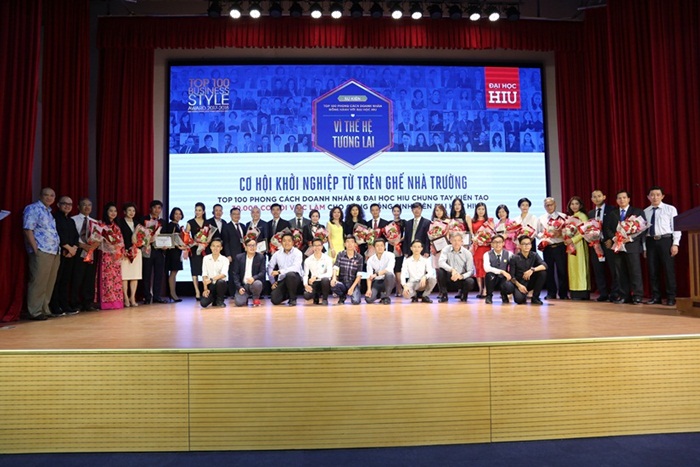 "Out of thousands of unemployed students out there, the real problem is that we are out of work," she concludes. Absolutely not, we are not lack of work but lack of suitable people for work. "
Entrepreneurs are committed to accompany HIU University
By: Bstyle