March 14, 2018
Starting from a small company, after more than 20 years of establishment and development, up to now, Jandra Global Trader Corp – a company founded and operated by entrepreneur Dess Villaroman has become a reputable and trusted brand about dental services in the Philippines. To better understand Dess Villaroman's business philosophy of successfully leading the successful Jandra Global Trader Corp, as well as her views on the role of female leaders in modern times, we had an interview with her.
Could you please introduce a little bit about yourself? (Name, job title and current position
I am Dess Villaroman, president of Jandra Global Traders Corp – a company specializes in the field of dentistry in the Philippines and immediate past president of National Dental Traders Inc.
Could you please share with us about your present business field? How was your entrepreneurial path?
At present, I have been worked as dental supplier for the past 20 years. Firstly, I just started small with my sibling. Later on, my work has grown tremendously and has since become an exclusive distributor for companies in many different countries around the world.
What is your business philosophy? What are the advantages/strengths of your company in the market?
Unlike many others, I am a person who is always interested in finding new, strange, and philosophical things about my business. I have put that philosophy into the company's brand by bringing to market products that are not available in the Philippines and make sure the products are high quality in standards.
I have built a very thorough path, which creates a strong point for my company. Jandra's advantage is it long presence and professional relationship with its professional client.
Could you please share some difficulties that you have to face with in business, and how did you overcome them?
When I first began with my business, my goal was to make popular dental products and introduce them to wealthy business people who went directly to the manufacturer and promised a bigger order but I could lose my exclusivity. I did not agree with that and decided to create my own brand and kept the name of the manufacturer. By now I am still satisfied with this decision.
Could you name some achievements that both individual and the company have gained in your business? Your contribution to the community and society?
In addition to bringing the Jandra become a prestigious brand in many countries as president of the company, I have honour of being the president of the national dental traders association (2016-2017); one of the board of director for Mr. and Ms. Republic of the Philippines; Initiated the collaboration of Asean Dental.
Your plans, intention for the development of your company in the future?
Being business, the first thing is to always have the ambition to develop. Increase financial incentives to my employees and we are in the process of completing and will be marketing an led sterilizer that can sterilizer instruments use in dental, medical and beauty salon for 3 minutes.
What are your perspectives about the role of Women Leaders in modern times?
In modern society, we are not so strange when referring to the term "Women leaders" anymore. It will not be too long when the lead role in every business, agency comes from the women. Women leaders should be more active to be visible and recognized in society.
Which business areas/fields do you prefer to connect with in Vietnam market?
I see that in the Vietnamese market there are potential about beauty technologies, especially beauty salons industry. And in the near future, I can come here to work with you to develop this field.
What's your opinion about the topic: "The Successful Women Leaders" & Honoring Ceremony of Top 50 Asia- Pacific Women Leaders Awards 2018? What's your expectation of this year event?
In my opinion, the topic is very good and meaningful. The important role of 4.0 technologies is undeniable. I think it has a strong connection to help entrepreneurs like me realize my role in the development of digital economy.
I expect the Honoring Ceremony of Top 50 Asia- Pacific Women Leaders Awards 2018 to be a success. The program will help business women to develop their role, leading women's ambitions and turning them into good leaders.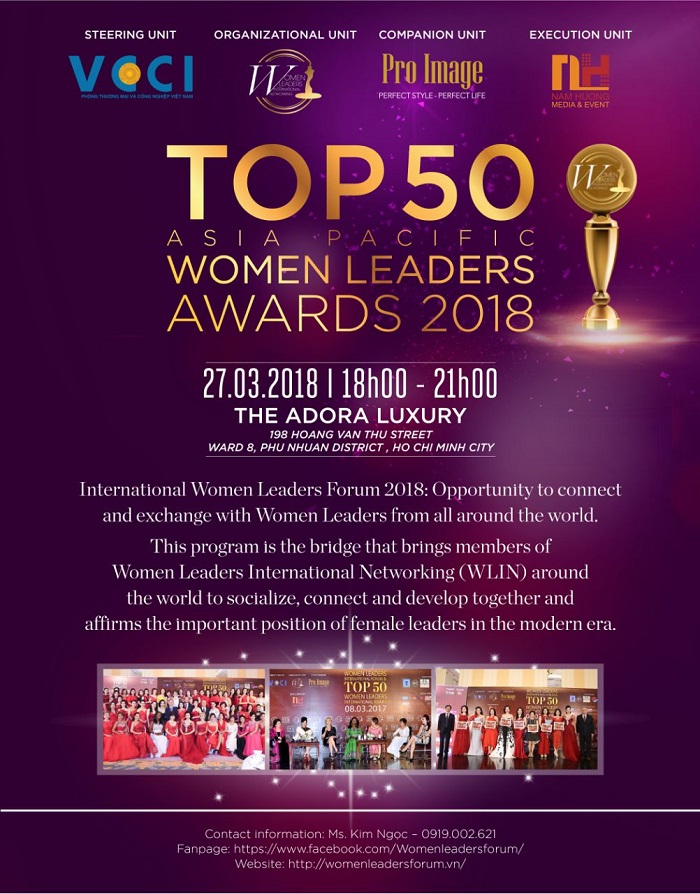 Thank you for your sharing, wish you and your company – Jandra Global Trader Corp will success in the near future!