May 2, 2018
(Bstyle)- On the last September 23rd, School of North America – SNA (a member of Nguyen Hoang educational system) has been officially opened the new campus in Him Lam residential area, Binh Chanh province, Ho Chi Minh city.
The event has made a remarkable milestone in the development of the North American International School. Attending the opening ceremony, there were over 1,000 students, parents and leaders from the  central and local departments.
"For us, having the mind of an educator with a" humanism "philosophy in order to train a student completely, in addition to improve the quality of our teachers and apply the highly advanced training programs, advocating with modern teaching methods, learner-centered approach, and intensive investment in facilities will create a catalytic environment that will successfully yield higher results in teaching and learning "- Ms. Nguyen Thu Thao, General Group Director Nguyen Hoang shared.
Ms. Nguyen Hoang Thao, General Director of Nguyen Hoang Group spoke at the event
Knowledge, physical, personality
The Him Lam campus facility of SNA system was on the land about 9000m2, of which 50% is vegetation, floor area of ​​nearly 17,000 m2, including a basement, four level, and a mezzanine.
Parents and students are encouraged to visit the campus – a modern architectural green building located in the suburbs.
All procedure from design, construction to furniture, functional rooms are strictly checked to ensure the highest standards of WASC (Association of American schools and universities).
In addition to the 80 well-equipped classrooms, SNA Him Lam also has a laboratory system, auditorium, art room, digital library, cafeteria, swimming pool, house sports, golf course, baseball field, robot room to teach STEM subjects (science – technology – engineering – math).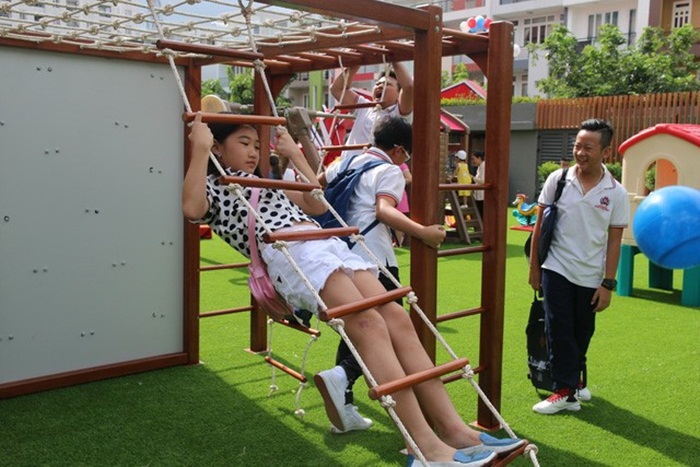 At the event, the elementary students have been offered opportunities to enjoy the green lawn and experience the  colorful outdoor playground with numerous games. Meanwhile, the high school students are confidently communicate with the foreign teachers in English at the reception hall.
Not only facilitating the emphasis on imparting knowledge, the school encourages students to find passion, interests from sports, arts, society … to support students in the development of knowledge, physical and personality. .
Fascinated by the new space, Grade 11 student Do Thien Kim shared: "At the beginning of the school year, after meeting my new teachers, I feel very comfortable with them. Four years ago, we are now definitely be more comfortable and learn better.
In the future, she has set two goals: to become the president of the student council and can be able to use English as native speakers. It is also her confidence in studying at this school that teachers (especially math and English teachers) are good at paying attention on students so that they can prepare the students well before entering college. "
From here, SNA students and teachers will use more modern practice rooms to study applied physics, applied biochemical theories in practice; read books, read books 24/7 with digital library, that contains many useful books.
As sport spirit have always been highly recommended, accomodating es fully equipped boarding facilities and managed well by smart card systems.
Boldly invest in education
Throughout this morning ceremony, the philosophy of humanitarian education and comprehensive development were united among the teachers and school administrators.
Mr. Ha Huu Phuc – Director, Representative of Ministry of Education and Training in Ho Chi Minh City, said: "The Ministry recognizes and appreciates the progress of Nguyen Hoang Group, which has outstandingly invested in the field of education, also has been sharing with the Party and State in building modern facilities.
In line with the call for socialization, SNA has invited many experts, excellent lecturers in and out of the country to share modern teaching methods – advanced training programs, worthy of the trust of the sub brother".
The first year for SNA children, Hoang Vu, a parent of two children at school, said: "My daughter is in the 9th grade this year, for the first time studying in SNA, she had to go to soon from the early summer in order  to catch up with the program.
I could see in every one of them, every two days they call the school route, grasp the circumstances of each student, support my child in learning the knowledge that they have missed the last time. Seems that they are really like and get along well. Although I study in parallel two programs Vietnam – US, and this integrated program was pretty intensive, however, the teachers have planned for everything, that makes us feel even more confident toward the school.
Dr. Doan Hue Dung – CEO of SNA
Presenting to hundreds of parents, Dr. Doan Hue Dung, SNA Executive Director has said, "In this school year, we are having a better chance in building a better learning environment for our students. Student-centered, a good place for children to play, learn, grow steadily in both academic and personality.
Emphasizing the contribution of international schools in shaping student capacity and character. "Through our experience, we have found that international schools such as SNA, thanks to the highly advanced teaching methods, have provided students with good knowledge, perfect skills and integrated confidence. This can be compared with students in public schools, admittedly considered as disadvantaged. "
In this occasion, the school also offered over 50 scholarships worth VND5 billion to outstanding students.
Hien Thuc singer has made the atmosphere inaugurating with the new SNA become more lively, and fun. This singer is also the parent of  a grade 10th student here. It is known that, from this school year, Hien Thuc will be a vocal teacher of our SNA.
Has been founded since 2005, SNA is a member of the educational system of Nguyen Hoang Group, the first and only school in the international schools in Vietnam that offer integrated programs Vietnam, the United States enforced by the Ministry of Education and Training and the California Standards Program.
From here, students will receive a US diploma – recognized globally. This is a stepping stone for students to attend any university in the United States and other countries with highly advanced education.
By Bstyle Magazine