April 5, 2021
On March 24, 2021, Ychi Vietnam officially signed with Nam Huong Corp to invest in the Women Start-up Network on digital platform with an investment up to 420 billion within 10 years. The event ended succesfully at Gala Center, 415 Hoang Van Thu Street, Tan Binh District, HCMC.
Accordingly, Ychi will accpomany Nam Huong providing human resources to help women in digital transformation and health care as well as personal financial solutions for women starting a business.
Miss World's Runner-up Ms. Nguyen Thu Huong – General Director of Nam Huong Corporation at the event

Signing ceremony between Ychi Vietnam and Nam Huong Corp
Women Startup Network (WSUN) is a bridge to apply digital technology between investors, suppliers and young women who have passion and desire to start a business in many fields starting from a low amount of capital. Founded by Intrernational Women Leaders Network – WLIN Global.
The conpanionship of Ychi is also a great turning point opening a better future in a golden age for the Intrernational Women Leaders Network – WLIN Global. Because in the upcoming time, members of WLIN Partners will have more opportunities to receive salary fund and this fund will be dedicated to the network development support staff from women's business startup project. This category will be trained directly to the members when they becoming a part of WLIN Partners.

The signing ceremony took place succesfully betwwen Ychi Vietnam and Nam Huong Corp
Ychi Vietnam will accompany Nam Huong Corp in the Women Start-up project
The event was attended by the talented and beautiful female leaders of International Women's Leadership Network – WLIN Global.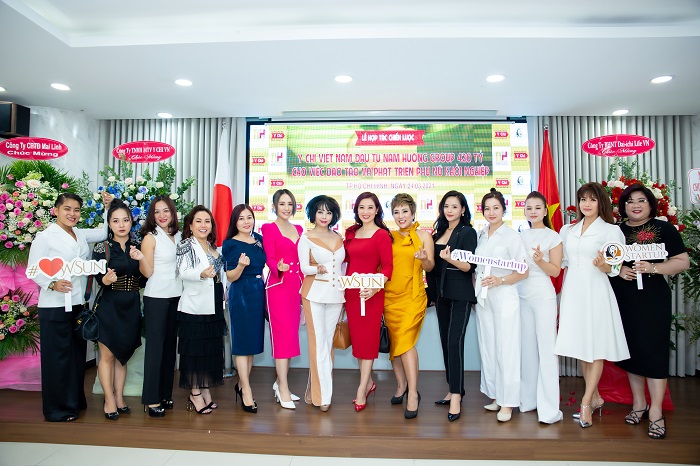 Women's Leaders in WLIN's International Women's Leadership Network were special guests at the event
This successful signing ceremony will be a good opening for the cooperation strategies in the Women startup in digital platform project.
Therefore, coming here at 14:00 – 18:00 on March 30, 2021 at ADORA CENTER, the announcement ceremony of strategic cooperation for WSUN between Nam Huong Communication Group and YChi Vietnam will be held at Woman Startups Forum Event On Digital Platform. This is a monumental forum event organized by Women's Entrepreneurial Network – WSUN with the companionship of YChi Vietnam and sponsored by the International Network of Women Leaders – WLIN Global, by Nam Huong Media.
The event with the participation of investors, suppliers and 1,000 startup women, is an opportunity to connect business between entrepreneurs, investors, reputable suppliers in the market and people want to start a business, and also join the largest women's startup network in Vietnam.


The Women Startup on Digital Platform Forum will take place on March 30, 2021 at ADORA Center.
When registering for the event, startup individuals will receive many attractive benefits with a total value of up to nearly 94 million VND, in addition to the opportunity to access the investment package of 420 billion VND and lottery to win 9999 gold.
Register for the free event at the link: http://bit.ly/DKSKPNKNTNTS.
Join WSUN Women's Start-up Network by registering via the link: http://bit.ly/PDKCDPNKN.
In addition, WSUN will register to participate in training start-up women with investment capital from only 22 million VND right at the event.
For more information, please contact:
Hotline: 0916 350 072 (Ms Ngoc Huyen)
Website: https://womenstartup.com.vn/
Landing page: http://www.phunukhoinghiep.net.vn/