July 5, 2018
With many years of experience in the field of dental hygienist and responsibility with patients, Ms. Sophie Lee – General Director of Seoul Ace Dental Clinic is the image of a woman leader constantly learning to reach success. On the occasion when Ms. Sophia Lee became Vice President of WLIN 3C in charge of health care and sports field, Wlin.vn has a short interview with her.
Could you please introduce a little bit about yourself?
 My name is Sophia Lee, my hometown is Seoul in Korea, and I majored in dental hygienist. I worked for 10 years in China and was issued to Ho Chi Minh City, Vietnam in January 2017. My work is the general manager of Seoul Ace Dental clinic HCM branch.
Could you please share with us about your present business field? How was your entrepreneurial path?
Currently, we have a leading Korean teeth technology in the field of dental clinic and we have opened our first branch in Ho Chi Minh City to meet the desire for more beautiful, natural and painless treatment of many Vietnamese locals. Loss of teeth is a very important issue that is linked to health. So, all of our medical staffs want to maintain an important motto for recovery therapy that will save your natural teeth.
What is your business philosophy?
Our philosophy is to presently oral health care. Pre-regular checkup dental health care, we systematically arrange to contact the children every 3 months and adults every 6 months. If you treat an implant surgery at our dental clinic, you will receive free check management for one to three years.
Could you please share some difficulties that you have to face with in business, and how did you overcome them?
We are visited by many customers through introductions, acting as a differentiator to help you apply for international insurance services and to feel at comfort. We are also experts in various countries, so you can freely use various languages in clinic. We have differentiated treatment to respect the privacy of the patient and reduce the time for treatment.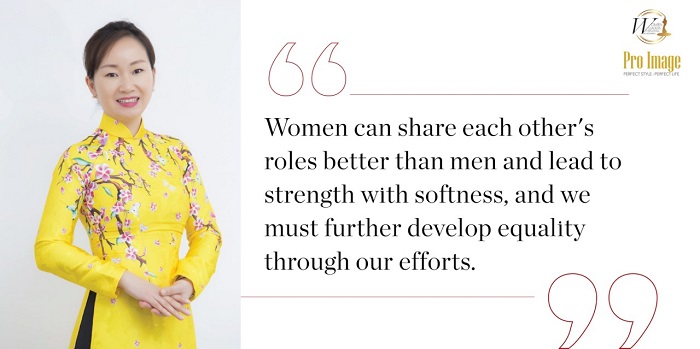 Could you name some achievements that both individual and the company have gained in your business? Your contribution to the society?
We are marketing and making friends from many communities in Vietnam to develop our clinics more aggressively. We will make a good company to share and serve through Korea's specialty medical experience.
Your plans, intention for the company's development in the future?
We hope to open and develop more dental clinics and have the goal of setting up private dentist training centers, international dental materials companies and dental laboratories.
What are your perspectives about the role of Women Leaders in modern times?
The role of women leaders is very important worldwide. We can share each other's roles better than men and lead to strength with softness, and we must further develop equality through our efforts.
Why do you decide to join WLIN?
Since this is Vietnam, I want to make Vietnamese friends. I want to get ideas through my successful experiences and projects and make my life more enjoyable.
As a President/Vice President, what will you do to contribute to WLIN and social activities?
As a vice-president of Korean, I would like to introduce many Korean women who have excellent leadership ability with those are living a good life here with happiness.
Thank you for your sharing !