January 19, 2018
It's been 10 years since the first day of establishment, Top 100 Business Style Awards has asserted its brand and become one of the most honorable prizes of international and domestic entrepreneurs.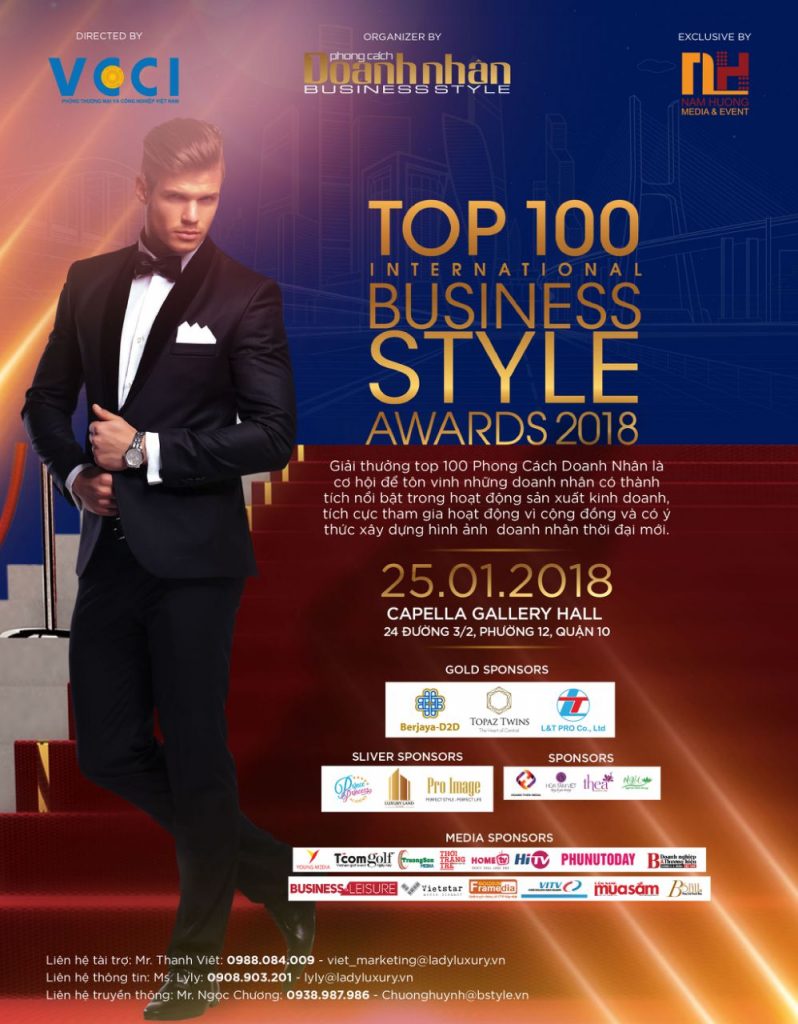 With the mission is to bring good values through building a strong entrepreneur community, The honor ceremony of Top 100 Business Style Awards has impressed beautiful memories on the heart of entrepreneurs who are living and working in Vietnam as well as many other countries have participated in this event.
This is not only a place to honor individuals who are good at business, but also annually this prize has created many opportunitites for international and domestic entrepreneurs to connect, exchange and sharing information as well as new business trends in the market.
During the last decade, many prestigous programs were successfully celebrated such as "Entrepreneur Forum", Leader Talk", "Businessmen for next generation", "Mark of Respect", "Balance of Life", "Business Style Golf Tournament",…
Based on those criteria, and marking the stage of 10 years in the process of connecting and creating the strong entrepreneur community, this year, the Honor ceremony of Top 100 Business style Awards 2018 will continue to inherit and strengthen great values of the previous years. With the desire is to integrate global development trend in order to create the unlimited connection space with the participation of over 300 Vietnamese and International enterprises (India, Korea, Japan, Singapore, Malaysia, USA, Philippines, Indonesia, Thailand,Palestine, France, Belgium, Netherlands, Australia, …)
In particular, Leader talk forum –Digital Technology and sharing economy – the main topic of Top 100 Business Style 2018, organizers hope that the hottest topic will bring many different aspects when the world has changed rapidly. Therefore, there will be a bridge to connect new business ideas, advantages as well as ultimated solutions for this issue.
Speakers attending this forum are well-known experts, successful entrepreneurs from many countries. The new face of 10 year stage has asserted that Top 100 Business Style Awards has spread and impacted in the effective way when recieving many supports of entrepreneurs all around the world.
According to Business Style Magazine