March 19, 2018
Naz Juman is well known as an inspirational leader with extensive experience in the field of law, logical thinking, especially solid track record in advising on complex legal questions in both litigation lawsuits and corporate law matters. To understand Ms. Naz Juman – one of the business women who will be present at the Women Leaders International Forum & Top 50 Asia – Pacific Women Leaders Awards 2018. Wlin.vn's reporter had a chance to do an interview with her.
Could you please introduce a little bit about yourself? (Name, job title and current position)
I am the Founder and CEO of Schinder Law Firm. I believe most people would describe me as an inspirational leader known for my nimble and logical thinking, extensive experience and business contacts, and solid track record in advising on complex legal questions in both litigation lawsuits and corporate law matters. Over the past decade, I've championed a legal team, specializing in a broad scope of projects within the Indonesian infrastructure and energy fields, some of which include electric power plants, freeway and bridge projects, and chemical plants.
Could you please share with us about your present business field? How was your entrepreneurial path? 
The legal services we provide include advising on the optimal legal structure of projects, carrying out due diligence, taking part in negotiations, offering legal analysis and legal opinions, and assisting in transactions.
Yet, my expertise is not confined to traditional domestic developments. In fact, I've assisted numerous foreign investment companies, institutions, and organizations in successfully investing in and entering the Indonesian market. I've become a trustworthy corporate consultant for companies and organizations from their initial establishment until the present.
I actually had no intention to go into law; at my core, I'm an art lover. Yet when exposure to the legal field fell onto my lap, it was a perfect fit. What started out as me helping good friends find a Mandarin speaking attorney in Jakarta eventually transformed into me owning my own tri-lingual law firm.
I started Schinder in my living room and was essentially the company's sole employee. However, new of quality and results spread quickly amidst both Chinese and Indonesian circles and my "living-room firm" grew rapidly. My vision was to build a first-class, full-scope law firm with which businesses desire to associate because our consistent, proficient team delivers an exceptional experience in tailor-made, comprehensive, and value-added legal services. Currently, I'm in midst of making of making this long-standing vision come true.
The legal field in Indonesia is extremely complex for several reasons. First, the lack of continuity in implementing ever-changing regulations makes it difficult to fully grasp the most current requirements and contributing conditions. Second, the heavily embedded religious sentiment and culture can often convolute or even supersede universal legal practices. Thus, the demand for legal services from both foreign and domestic clients is and will continue to be stable.
What is your business philosophy? What are the advantages/strengths of your company in the market?
My philosophy centers around my strategy of always putting clients at the heart of everything I do. At Schinder, we pride ourselves on providing risk management, targeted-industry, multi-jurisdictional, and corporate governance advice that allows clients to remain mobile through education, technology, and solutions-oriented service. Our strategy also puts our people at our very center because we know they are business critical for our clients and us.
We have an absolute focus on core areas of law to ensure we create the genuine depth of expertise our clients expect. Now that we have more than 30 people and two offices in Indonesia, our growth strategy for the next three years is about consolidation and organic growth within our core geographic and industry markets.
To do this, we know we need more than just talented lawyers. We need talented people, supported by the right resources and technology, in our IT, Risk, Knowledge, Finance, HR, Marketing, and Operations teams too. That's why we keep investing in these areas, regardless of economic market fluctuations, because Schinder understands the uplift inefficiencies and relevance for our clients that these investments create.
What gives us a distinct advantage over other firms is the fact that our mission, vision, and strategy are underpinned by our values that serve as Schinder's foundational guides and standards. Additionally, we offer full of services in three languages Chinese, English, and Indonesian, which equip us with an obvious edge internationally.
Could you please share some difficulties that you have to face with in business, and how did you overcome them?
Early on, I knew I had a talent for understanding and decoding customers' needs and expectations. I was often challenged by attorneys I sourced because I insisted on giving specific direction of how to fulfill the customers' true requirements. This was not always received well coming from a woman who didn't have a law degree at the time. Thus, my biggest business difficulty while I was penetrating into the field of law was not having my own law degree. Often my credibility would come into question, which at times caused friction. Hence, I saw pursuing and acquiring my degree as a healthy measure of both standardized knowledge and earned respect.
Could you name some achievements that both individual and the company have gained in your business? Your contribution to the community and society?
While I've never been one to covet an accolade, Schinder has been committed to its Indonesian community. We support various programs and institutions from a free English tutoring center in rural Lombok to an orphanage in impoverished Java. Schinder also participates in yearly CSR initiatives focused on education and sponsors a variety of women's empowerment programs at the high school level.
Your plans, intention for the development of your company in the future?
For Schinder, my goal is to not only establish several more international firm partnerships but to also branch out into other ASEAN countries to magnify the depth of our practice groups, as well as add new groups in order to provide clients with a broad range of quality services.
Since I am constantly seeking out new ways to challenge myself, I've expanded my breadth of expertise by founding BIAMC, Bali's first and only arbitration and meditation center.
We have emerged as an affirmation of three distinct yet interwoven Asia Pacific phenomena: The Association of Southeast Asian Nations (ASEAN), China's One Belt One Road (OBOR), and Indonesia's new, primary directive to increase Foreign Direct Investment (FDI). Predictably within most cross-border jurisdictions, a significant consequence of increased development, integration, and transnational transactions is the greater possibility of commercial conflicts and disputes both in quantity and complexity.
What are your perspectives about the role of Women Leaders in modern times?
As a young woman raised in highly censored, tumultuous environment in Weger, China, I understood from an early age that education was a privilege and a means to think freely. While my parents were both accomplished professors, there was no doubt of the prevalence of gender inequality surrounding us. It was an undeniable struggle to strike out from the norms and find a way to escape the confines that plagued my gender and my geographic location.
Later as a woman in Indonesia, I again encountered a society largely dominated by males and plagued with nuanced expectations of women. To make matters even more complicated, I entered the legal field which is almost completely monopolized by males both in ownership and in practice. Hence, gaining respect amongst the peers in my field hasn't been easy.
Ultimately, I believe that women must play a strong role in progress. We must support each other and project an image of unity, competence, and success. However, I also don't believe that women should be held to a different standard. Women cannot demand equality in one breath and then be less qualified, experienced, or knowledgeable yet still demand concessions the next.
There is a balance to be found in being a woman, mother, wife, attorney, and boss. Find that balance. If you truly desire equality in the work place, then be prepared to strike a balance between arrogance and confidence, close-mindedness and assertiveness, between femininity and sexuality, between micro-managing and responsibility, etc.  True–the legal profession is predominantly male in Indonesia, but that doesn't give any woman the right to wear this fact as a chip on her shoulder. Never let your genders limit you, but never wield it as entitlement either.
We must deserve to be leaders, entrepreneurs, and mentors. No doubt, women should be on the forefront of innovation and leadership. That's where I aim to be.
Which business areas/fields do you prefer to connect with in Vietnam market?
Since I plan to open firms in both Cambodia and Vietnam within the next few years, I intend to connect with major players across all industries. Of course, I hope to initially establish strategic contacts to best understand the legal landscape and potential. In addition, I hope to promote my arbitration firm BIAMC as viable means of enforceable resolution among all parties engaged in cross-border transactions.
What's your opinion about the topic: "Women Leaders and Digital Economy" of Women Leaders International Forum & Top 50 Asia – Pacific Women Leaders Awards 2018? What's your expectation of this year event?
This year's topic has an immediate significance to me actually. My firm is holding a workshop on "Preparing for the EU General Data Protection Regulation (GDPR)", which will be held on March 29th, 2018. The digital age and its relationship to data protection is undeniable. The intricacies involved with the most recent developments and their consequent impacts are drastic. The most extremely important change in business regulation in the past two decades will take effect soon. The European Union's General Data Protection Regulation (GDPR), replacing the current Data Protection Directive (DRD), will be in force starting May 2018. The GDPR is a game changer – a comprehensive and strict framework that carries heavy financial penalties for its non-compliance. Thus, as a woman and an owner of a law firm whose associations and clients will be forced to adapt and progress in their technology, I welcome a global acknowledgment of the far-reaching impacts of a digital age.
My expectation of the event is to link with strong business women, strategically positioned within various marketplaces. I hope to establish and maintain sincere relationships with them and find ways to mutually benefit one another. I'm very honored to have been nominated for this recognition and feel very humbled to amongst such iconic women.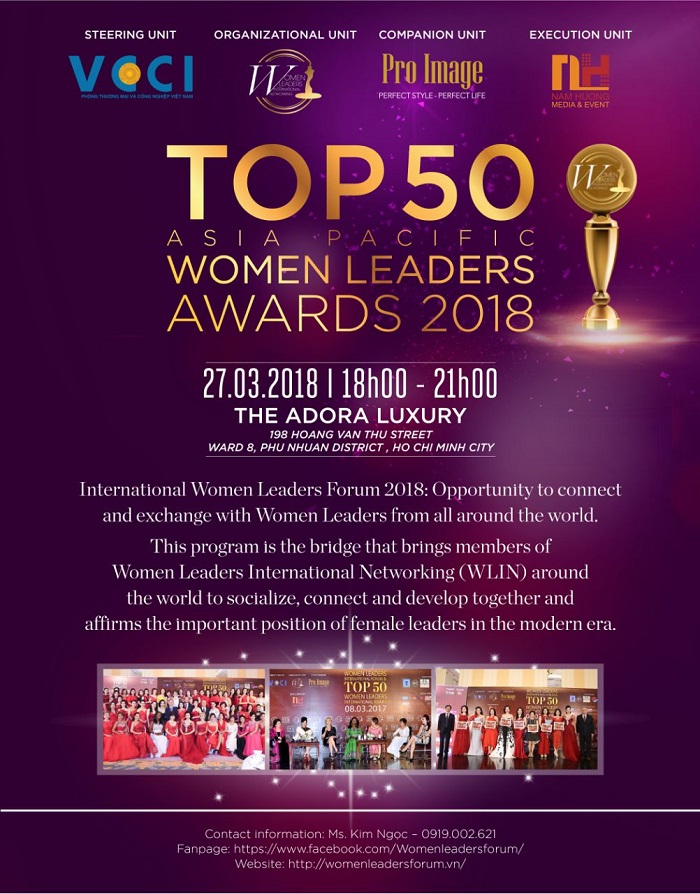 Thank you, wish you and Schinder Law Firm continue to be successful in the future!