March 14, 2018
Among the expansion of Women Leader International Network (WLIN), Honour Night and Forum for Top 50 Asia – Pacific Women Leaders 2018 welcome an Indonesian businesswoman – Abby Lau, Founder of Rapellez & Abby Skincare. Her business areas are wellness and beauty for women. She is also a radical woman with positive opinions about gender equality in society. She had a small talk with reporter of wlin.vn before the Honour Night and Forum for Top 50 Asia – Pacific Women Leaders 2018.
Could you introduce yourself to readers of wlin.vn?
Hello all my Vietnamese friends and members of Women Leaders International Network! My name is Abby Lau, and I am from Indonesia. I am the founder of Rapellez & Abby Skincare.
Could you please share with us about your present business area?
In the present, Rapellez & Abby Skincare is working on wellness, beautifying and skincare for women. The market of beautifying has rapidly developed all around the world. Thus, it was not easy for Rapellez & Abby Skincare at the beginning. However, I always think of it as an interesting and unforgettable memory.
What is your business philosophy? What are the advantages/strengths of your company?
From my perspective, the sustainable development of a brand depends on its products and services quality. If the quality is poor, customers will never come back after their first try, regardless of striving for marketing. We are currently trying to create treatments that do not have chemical preservatives, so they are not harmful for customers' health in the long term.
Could you please share some difficulties that you had to be faced with in business, and how did you overcome them?
I have been faced with two problems since I started Rapellez & Abby Skincare. First, most of my new staff members are unskilled. , Second, ethic is a difficult problem. In terms of staff, we keep the training and retraining sessions as a part of their responsibilities. About ethical problem, I myself gain more experience every day. It's really hard to overcome ethical issues as there are many kinds of people.
Could you name some achievements that both individual and the company have gained in your business? What are your contributions to the society?
We were the first to come out with Champagne facial many years ago. At that time, we were overwhelmed by the response. Clients achieved fabulous results! There are also many more following achievements.
About contributions to the society, at Rapellez & Abby Skincare, we hire uneducated people and train them up! Some of them make 5 figures a month! That's monetary! But I believe for those single mothers, they become independent and self-confident. Financially even emotionally!
What are your plans, intentions for the company's development in the future?
We will create or formulate more treatments and products that only use natural preservatives. Also, I intend to open new branches overseas, develop Rapellez & Abby Skincare in bigger market.
What is your opinion about the role of women leaders nowadays?
Businesswomen have impressive achievements, which are against the bias on gender. In this era, women not only have responsibility for childbearing and childrearing, taking care of family, but also contribute to social development. Women even have better leadership than men. I strongly believe in the gender equality that women have been fighting for.
Which business areas are you prefer to connect with in Viet Nam market?
In Vietnam, I would like to connect with entrepreneurs working on the market of wellness, skincare, beauty and fashion.
What is your opinion about the topic "Women and Digital Economy" of Honour Night and Forum for Top 50 Asia – Pacific Women Leaders 2018?
I think the first and foremost advantage is meeting interesting people throughout the world. Besides, it can be inferred from Rapellez & Abby Skincare that digital economy makes women's dream come true. In other words, job opportunities come to everyone in an open world of digital economy.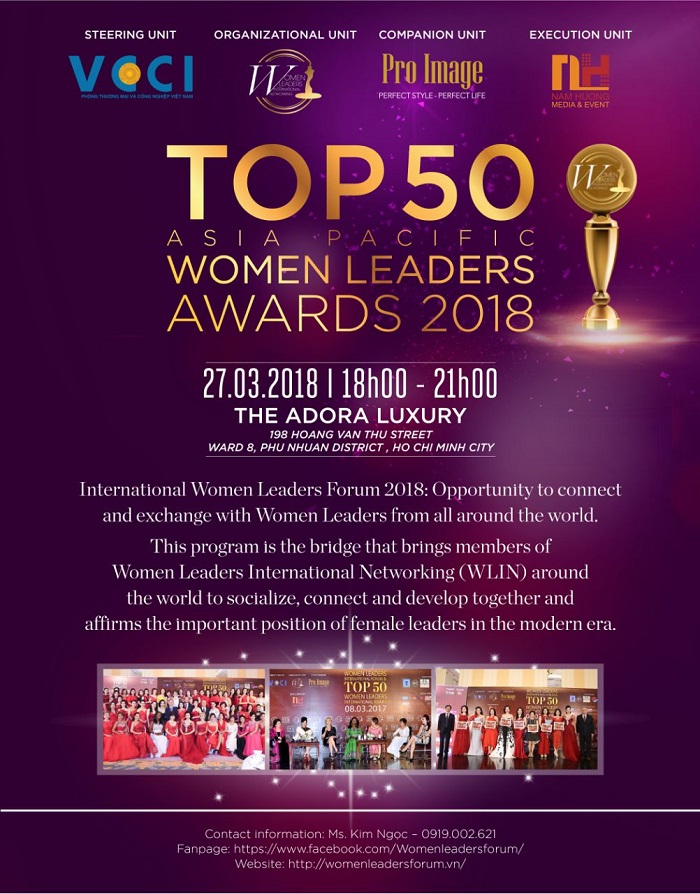 Thank you! Wish you and Rapellez & Abby Skincare having more achievements in the future.
According to WL Magazine