May 21, 2018
The event "Leaders' bookshelf" was carried out successfully at the School of North America – SNA and lots of good feedback and comments were gathered from our event participants. This was granted to be a launched event for the Top 100 International Business Style event 2018 – 2019 hosted by BSIN and Nam Huong Corporation.
The event was strongly supported by our businessmen community, SNA teachers and students
All of our businessmen was gladly commited in the books giving ceremony
Most of our BSIN members sacrified their precious time in this weekend morning to join this meaningful event. The great gratitute from receiving the sharing from our leaders generation to our students in this event was touching the soul of our businessman guests.
DR. Nguyen Khac Thuan revealed that the Leader Talk – Leaders' bookshelf was a precious event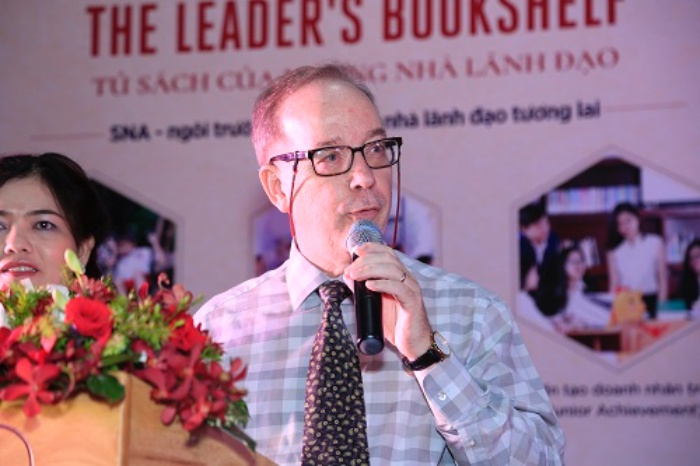 DR. David Burpee – Principle of School of North America
Businessman Le Viet Hai – CEO of Hoa Binh Group shared a talk about his favorited book
Businessman Paul Le – Vice CEO of SME shared a talk to our students about his book
Hundreds of book titles and those are considered as prior elements in the key success stories of our businessmen from BSIN community – they have directly given out the books to our SNA students, a great contribution to the school's library. Besides that, our students can communicated with our BSIN members – the great leaders gathered from diverse industry backgrounds.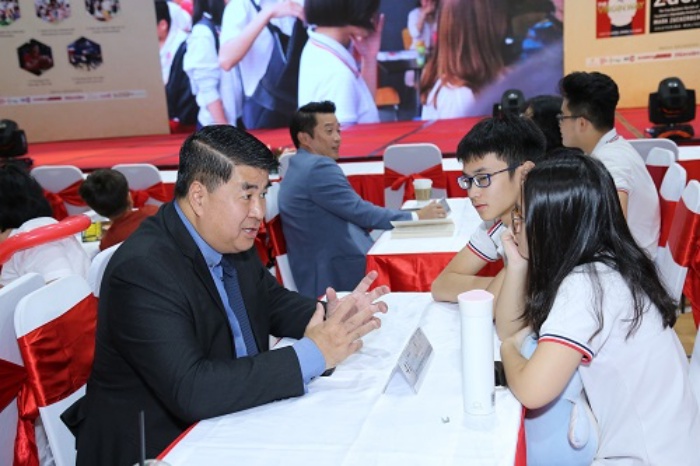 The SNA students communicated with our leaders
This is a precious chance for students to interact with "the knowledge pool", listen to the shared ideas, experiences through out the early days of setting up their career, this provides our students more confidence to begin their career paths.
Our SNA students were glad to receive the new books addition
The businessmen and SNA students captured beautiful moments on the stage
With the title "Future for our next generation" associated by Nguyen Hoang Group, this year Top 100 Business Style had a sincere contribution from parents, education investors and businessmen are altogether in promoting and facilitating higher and wiser future generation to be.
By BSIN