August 23, 2018
On August 28 and 29, Laguna Lăng Cô, a fully-integrated international resort, will host a special event that will bring together the best and brightest business leaders from across the ASEAN region. Especially, Mr. Gavin Herholdt – Managing Director of Laguna Lăng Cô will participate in the event as a speaker.
Mr. Gavin Herholdt – Managing Director Laguna Lăng Cô
Among the events on the first day, which also includes a networking session and a banquet at the elegant Angsana Hotel Ballroom, is a keynote address by Laguna Lăng Cô's Managing Director Gavin Herholdt entitled "Finding Gold: Central region of Vietnam".
The location along the Central Vietnam Heritage Trail and between international airports in Hue and Da Nang, plus continued development along the Lăng Cô coast, have seen land prices in the area skyrocket over the last 12 months.
An aerial photo of the international integrated resort at Laguna Lăng Cô featuring Angsana Lăng Cô hotel
Mr. Herholdt said the event would build on the platform Laguna Lăng Cô was created to be a multi-faceted destination incorporating compelling activities, luxury accommodation, and international standard recreational facilities, which will also see the addition of a casino after the recent granting of a gaming license by the Vietnamese government.
Views to the Ocean from a Hill Villa of Banyan Tree Lăng Cô hotel
"There is such great potential in central Vietnam on many fronts, including in tourism and real estate, and I believe we can create a great basis for growth with events like this business festival," he said.
"Laguna Lăng Cô is the first project in Vietnam for Banyan Tree Group, and is not only a premier destination for travellers seeking the ultimate escape, but we are also playing an active part in driving development in the region".
Signature Ocean-front Hole No.9 of Laguna Golf Lăng Cô
Guests can also enjoy a round of golf at Sir Nick Faldo designed championship golf course, while the crowning moment of the two days will be the 'White Beach Party' gala dinner at the Beach Club in the resort. The festivities will include a sumptuous dinner, activities, and musical performances.
White-party themed Gala Dinner at the Beach Club
Founder of BSIN and WLIN – Mrs. Thu Huong said: "The purpose of the event is to look for those golden opportunities, but also to take time to find balance in life, and there is no better place to do that than here with the world-class facilities and amenities at Laguna Lăng Cô".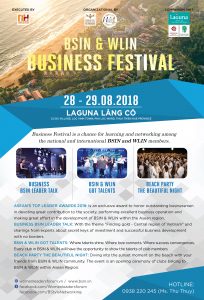 Online Event registration form: http://bit.ly/2NVq5O3
Event information:
Date: August 28th and August 29th, 2018
Venue: Laguna Lăng Cô: Cù Dù Village, Lộc Vĩnh Commune, Phú Lộc District , Thừa Thiên Huế Province, Việt Nam
Website: www.lagunalangco.com
For more information, please contact:
Hotline: 0938 220 245 (Ms. Thu Thủy)
Website: www.bsin.vn
Facebook: www.facebook.com/Womenleadersforum
                  www.facebook.com/BusinessStyleInternationalNetworking
According Business Style publication