May 4, 2018
Women Leader International Network (WLIN) và Business Style International Network (BSIN) are two international network established and operated by Founder Mrs World Nguyen Thu Huong, with the strategic vision to expand towards the International market. Existing in the expansion project in bringing WLIN and BSIN towards across South East Asia nation, by the end of last April, Mrs World Thu Huong has been carrying out an introduction day in order to launch the networks to the Businessman community in Singapore and Malaysia.
Last 25th April, Mrs World Thu Huong and the Singapore Women Leaders community have joined a Business Coffee Talk to prepare for the WLIN introduction day in Singapore. This event had the present of Ms. Vanithadevi Saravanamuttu, DR Sangeeta Biswas, Ms. Relawati HMS, Ms. Abby Lau, Ms. Grace Chong, Ms. Amanda Aida Atan,… and many other leaders from this country. This event was a special moment for Mrs World Thu Huong – WLIN Ceo and Founder to train and offer proffessional advices to other members of WLIN Singapore regarding to the operational process, and how to develop and expand the Network. At the same time with the establishment of WLIN Singapore, Nam Huong Media Group and Pro Image Academy were officially introducing their new offices and begining their operation in this country – which is also known as the centre of commerce in Asia. Another partner in the project of expansion into Singapore was Ms. Nancy Nguyen – the manager of Fullion Group – President of WLIN Vietnam in Singapore. Ms Nancy Nguyen have shared her dedication in becoming a WLIN President and  she confidently believe that WLIN will grow stronger and wider not only in Singapore but also across many Asian countries in the coming future.
Singapore owns an outstanding economic growth with numerous potential factors gathered from many professional talents. This is a key element brings both opportunities and challenges to any investment or cooperation from businesses are planning to enter to this country. Despite the existing challenges can be faced on the way to conquer this new market, Mrs World Thu Huong still devoting great passion and enormous effort in the developmental and working strategies. Indeed, success has finally come right after her introduction of WLIN and BSIN – Business Style International Network to Singapore. This event inspired and attracted the interest from numerous Singaporean businessman to cooperate, learn and exchange in doing business via using WLIN and BSIN, from that they can connect and form partnership to create more and more chances to the mutual economic development of Vietnam and  Singapore.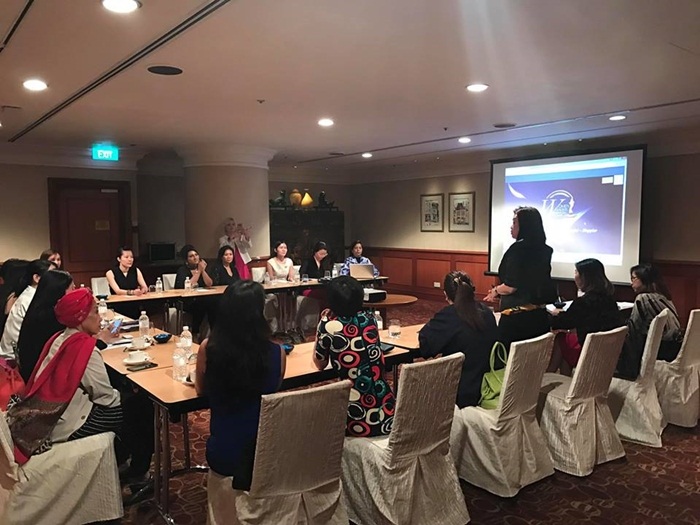 After Singapore, CEO Thu Huong continues to expand to Malaysia to join the Strategic Cooperation between Business Style International Network – BSIN and VConnect Group hosted by Nam Huong Media Group's strategic partner in Malaysia – Ms. Lim Stella. Within this event, every members of WLIN Malaysia has oportunities to celebrate a Business Lunch event filled with full of energy and and dedication on April 27th. The theme of this Busniess Lunch Malaysia event was "The methods of International networking and being successful in ASEAN market". This event series are chances for the general businessman and women leaders to develop relationship, building brand images as well as creating more oportunities for networking, investing and expanding businesses more globally. Mrs World believed that it is a key motivation to promote the completed development for the current network and facilitate a bettwe world for the future generation ultimately.
This successful events in Singapore and Malaysia have reflected that the vision and developmental strategies have been approached for BSIN and WLIN network are absolutely right decisions made by Mrs World Thu Huong. On the way to conquer the international market, Mrs World Thu Huong will continue to bring BSIN and WLIN to other destinations and would hope to be welcomed by the international community.
By WLIN/ Thanh Nien News