December 11, 2018
The Pioneer of the year – the main theme of the Top 100 International Business Style Awards 2018 – 2019. On December 13th, 2018, at the GEM Center will host the Top Top 100 International Business Style Awards.
Top 100 International Business Style Awards
As usual, the end of the year is the chance for everyone to look back on their journey, especially with the business, and this is an opportunity for them summed up the achievements that they have achieved during their one year of hard work, dedicating themselves to preparing for a new year promising more good things to come to your business. In that atmosphere, the event of the Top 100 International Business Style Awards 2018 – 2019 is the occasion for the organizers to invite the businessmen featured in every field, gather together and look back on the achievements over.
Attendedentrepreneursat the event and its related activities
From the very beginning, the "Top 100 International Business Styles Awards" have gone through 10 years and created a hallmark, a playground, or even a community for businessmen connect and develop your relationships, and contribute to finding the face of business in Vietnam and foreign countries represented are business activities in the country – those with style in business, contribute to the community, preserve the image before society, ready with international integration.
Top 100 International Business Style Awards 2018 2019
This year, not only foreign businessmen but also Vietnamese entrepreneurs who are increasingly active and confident, they are constantly innovating, leading in many fields, creating a great resonance in the community. This is also the reason for the organizers decided to choose the topic this year is "The Pioneer of the year"
Entrepreneurs who were awarded in last year
Pioneers not only are businesses, but large corporations can also change an economy that they can be known to take risks, accept the difficulties and challenges to bring new initiatives to promote a certain field and influential community. They can come from small and micro businesses but what they bring to society is worthy of respect and honor.
Beside activities
Besides, as usual, every year, before the event honored will be a special discussion of businessmen, influential speakers. And this year, in Vietnam as well as in the world, there is an exciting period when foreign companies boost investment in Vietnam and Vietnamese entrepreneurs are more aggressive in their efforts to "penetrate foreign markets". But what we see most clearly is that foreigners come to live and work in Vietnam, they integrate very quickly and achieve much success. In contrast, Vietnamese businessmen, though very talented and dynamic, but when they live and work in foreign countries, they can not integrate, which leads to the inability to develop the business. So the question is, what are Vietnamese entrepreneurs going to do, what opportunities and challenges will they have for global thinking?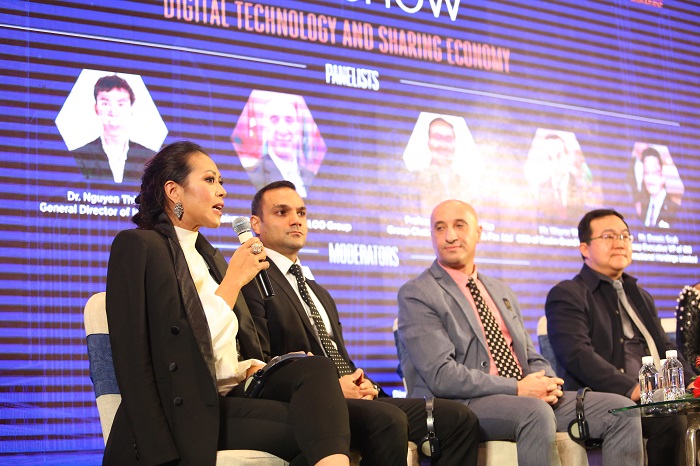 Panelswere sharing at Leaders Talk show in last year event
Understand that, in the framework of the ceremony to honor the Top 100 International Business Style Awards 2018 – 2019 , Business Style in conjunction with BSIN Global is invited to speakers from the following countries: Singapore, Australia, Canada, America, Europe will show their views on how to live, invest and develop in their own country so that Vietnamese entrepreneurs have a good foundation before entering the market through Leader Talk "Entrepreneurs live and work globally – Chances and Challenges".
Three of panels who will be in the LeadersTalkshow this year 2018-20119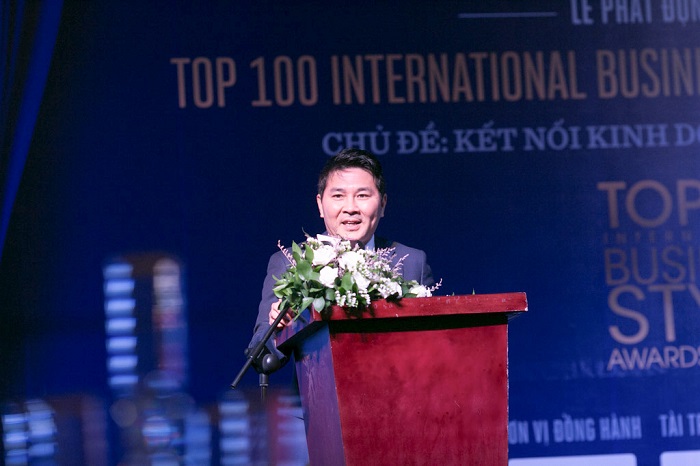 Mr.Nguyen Hoai Nam– Chiefof the Board of Nam Huong Corporation – CEO of  Berjaya Vietnam, Chief of the board of Ha Noi Intercontinental hotel
Runner-up Mrs. World Nguyen Thu Huong– Chief organizer
Ms. Nguyen Thu Huong – the head organizer of the program – shared about this event: "Currently, Vietnamese businessmen has risen to and mastering new technologies, updating new information, confidence, initiative and they sense the role of myself and Business Style will be recognized their contributions. This year more special is that we will split the prize by industry, by sectors such as recreation, agricultural, industrial, services,…to increase networking opportunities and give people an overall picture clarity most about the business community today."
Let the countdown to the time of the event and welcome the talented entrepreneurs will be honored in the Top 100 International Business Style Awards 2018 – 2019 forthcoming.
Program Information:
Time & Date :16h00 – 21h30, 13th December 2018
Location: GEM Center, 08 Nguyen Binh Khiem Street, Da Kao Ward, District 1, Ho Chi Minh City
Website:www.bsin.vn
Facebook:    https://www.facebook.com/tapchiphongcachdoanhnhan/?ref=bookmarks
https://www.facebook.com/BSIN.global/?ref=bookmarks
Hotline:093 822 0245 (Ms. Thu Thuy)