May 10, 2018
Recently, there was an event sponsored by WLIN community in which offering consultation and free medical services at  the Ha Noi General Hospital (No29 Han Thuyen street) . This was a meaningful event carried out by WLIN Pro club operated by Mrs Le Thu Loc.
Wlin Pro is the third community belongs to WLIN Ha Noi, establish and manage by Mrs World Nguyen Thu Huong. Every WLIN members are coming from widely different background Medical – cosmetic – fashion and health care. However, because of the highly demanding business, therefore our women leaders dont have so much chances to go for the annual health checkt and this is the main reason why WLIN decided to set up a day for health check– diagnose and supersonic check at the Ha Noi General Hospital and everything was managed by General DR. Tran Thi Hop.
General DR Tran Thi Hop was directly check and made health consultation for our WLIN Pro members
Situated in the center of Ha Noi, No 29, Han Thuyen street, Hai Ba Trung district), the Ha Noi General Hospital has been officially operated since November 2010, with the used acreage was nearly 2000 square meters. The hospital was reccomended as one of the most prestigious location for the citizen. Besides the International standard design, Ha Noi General Hospital also has highly professional doctors, and pay good attention to the patients.There for our WLIN operators have decided this hospital to launch the campaign.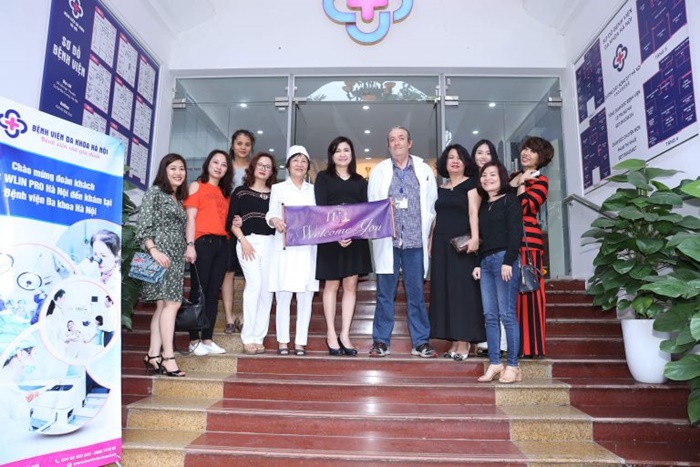 The Ha Noi General Hospital was chosen as the best and prestigious hospital by WLIN community
"This was a great idea of Wlin Pro and for the first time launching in Ha Noi, this event was becoming a meaningful and practical to be celebrated. This has attracted a lot of attention from our members and guests. Everyone was so excited and pleased with the charming and caring as well as skilled doctors crew. By this event, we would like our WLIN community to pay attention and good care to their health, plan ahead and arrange suitable time to receive proper medical treatment, so that they can continue to devote their energy to the development of their business and the society." – Shared by Mrs Le Thu Loc.
Mrs Le Thu Loc hope this event would make our WLIN members to pay more attention to their own health, arrange proper time for annual health check so that they can constantly devote their energy for the development of the community.
"After getting health check and consultation, every participants are having good health in general. This reflects that our members already have pay good attention to their health. However, everyone should not be too optimistic, we should build a habit of receiving medical check twice a year not only for ourselves but also for our family members". – Shared by General DR Tran Thi Hop.
 By: WLIN